Hi ya'll,
Today's post is to announce something I am super passionate and excited about!!!
It's my Victim to VIXEN project and it's a Ladies Only call series that starts TODAY!
9pm UK| 4pm ET | 1pm PT
And…This is Roxy, my co-host of the series, and our VIXEN mascot – haha…
( there is a story behind 'Roxy' and who she was in my actual life – hop on the call later to hear more about that)
_____________________________________
Since we know and love the fact that true FOXES love a little healthy competition
we decided to throw a little FREE TICKET TO TODAY'S CALL competition your way….
THE GAME: NAME THAT FOX!

HOW: First lady to reply to this email with the correct name wins a FREE ticket to today's call
ALSO: If you can not make the live call – no worries – still get in the game and we'll send you the audio after!!
READY – SET – GO – NAME THAT FOX! Email responses to VIXEN@TancieTrail.com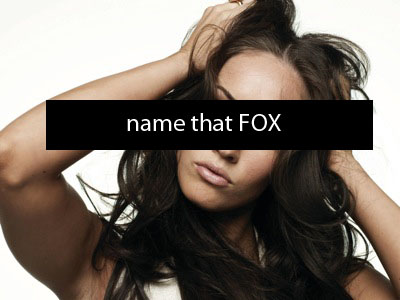 Victim to VIXEN is a bi-monthly call series featuring female experts in the areas of
sensuality
pleasure
feminine sexuality
personal transformation
radical wellness
appearance + sytle
financial stability and more…
Victim to VIXEN is all about reclaiming the relationship to feminine sensuality, sexuality, beauty & receptive nature.
This call series caters to women who, through the circumstances of their lives, have lost touch with their feminine power, who need support, help and guidance to re-connect, reclaim and realize themselves as the powerful sensual beings that they are. Lots of women who are, more often than not, stuck in victim mentality around anything and everything 'feminine' are often simply suppressed. No worries though, this is an easy area to grow and improve in if you truly want to. By devoting time to it on a regular basis and by getting support from strong objective supportive women like our call series will offer you're sure to get and stay on track!
All of the experts who will be featured typically charge hundreds of dollars to access them one-on-one, so be sure to take advantage of this super affordable rate that we are able to offer because of the group setting!
——————————
We will be on the call today with Genna McWhinnie – who's so committed to excellence and to women getting their FOXY ON that she's gonna stay up extra late over seas all the way in Scotland to be our Featured Expert.
NOW that is commitment!
TOPIC – Genna will be speaking to all of us about that negative chatter that goes on for each of us, what it is costing us, how to identify it, name it and turn it down once and for all. She will be giving a group coaching lecture on the topic from a scientific perspective…
THEN she'll be leading us through an exercise that we can add to our FOXY tool box to use over and over again to nip this negative chatter piece in the bud.
PLUS word on the street has it that – since Genna is know as The Sassy Minx – she may have us up and moving and dancing around our rooms at some point too!
OH and a Q&A session at the end of the call… It will certainly be fun, FOXY and informative.
——————————————–
JOIN US – make yourself a priority today for 1 hour.
Give yourself this gift of on-the-go girl time.
You deserve it and we'd love to have you!!
Set your reminders now: Today | Thursday March 3rd.
9pm Glasgow | 4pm NY | 1pm LA
Nowhere else can you get femininity coaching of this
caliber at this price. This you will not want to miss.
—————————————–
For all the info on this femininity call series visit VictimToVIXEN.com to read more.
See ya on the call !!
Love + Foxiness to ya,